If you're considering putting an elevator in your Philadelphia area home, the idea isn't as crazy as you may think. While it is by no means the standard, more and more people are choosing to install residential elevators in their homes for various reasons.
Aging in place has become a growing trend in recent years. People want to continue to live in their homes for as long as possible. Often times, this can mean the installation of a residential elevator to help with maneuverability around the house. Imagine you've lived in the home you love for 30+ years, but now it's getting hard to get up and down the steps. Moving things from floor to floor has become work. You don't want to leave your home, but what solution is there other than to move? A residential elevator could take care of these challenges and allow you to remain in the home you love.
Souder Brothers Construction has installed multiple residential elevators. They are becoming more commonly seen in Center City Philadelphia luxury homes that are 4 or 5 stories high. Residents who have spent their lives in the city and don't want to move can now get around their homes more easily without having to climb five flights of stairs. Installing a residential elevator in a Philadelphia home would be a great way for homeowners to make life easier on themselves and to not be faced with the decision of whether or not they should move.
How much does it cost to install a Residential Elevator?
A concern for most may be the cost of installing an elevator in their home. Many might even be surprised to find that spending the money to install an elevator is a value that you could get back out of your home if you do choose to sell in the future.
If you're wondering what the cost of a home elevator is, the answer is — the cost varies depending on the type of elevator you choose.
Types of Residential Elevators
There are five types of residential elevators:
• winding drum
• gearless
• hydraulic
• pneumatic
• the traction elevator
The three latter elevators seem to be the most popular in the industry and we'll give you a quick overview of their key features: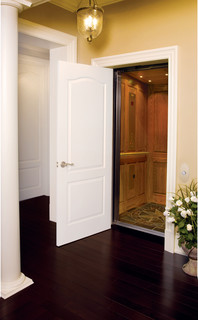 Hydraulic Elevator
The hydraulic elevator is on the larger side and will also require space for a machine room. Because of the size, it's easiest to install one of these if you're doing new construction and can plan for the space.
Traction Elevator
The traction elevator (also known as MRL, which stands for machine room-less) takes up less space and requires no machine room, as the alternate name suggests. This might be a better option if you're installing in an existing space.
Pneumatic Elevator
The pneumatic elevator is a relatively new machine and works with air pressure. This type of elevator does not require a machine room either, similar to the traction elevator, and is also a great solution for installation in an existing space.
TIP: Not ready to install a Residential Elevator right now?
Not quite ready to have that elevator put in? The great thing about residential elevators is that you don't have to do it all at one shot. Many homeowners are planning ahead and having elevator shafts installed while having other renovations done. When the time comes to install the elevator itself, the process won't be as involved.
Interested in getting a quote for installing an elevator in your home? Need some direction on what type of elevator would be best for your application? Give us a call. We'll be happy to help you through the process.